EXTREMELY HIGH DEMAND: Froot Loops Print Protective Face Mask: Made in USA, Woven Cotton With Filter Inserts
Product Details
Check out the piece CNN did about how these masks saved my business and countless jobs.

THERE IS AN OVERWHELMING DEMAND FOR THE MASKS and I cannot THANK YOU enough. This means SO MUCH to me & the factory.  We are so grateful for the work.
This listing is for the highly coveted FROOT LOOPS print mask. Quantities are limited, I hope you get one!
MASK DIMENSIONS: Each mask is 7 1/2" wide x 5 7/8" tall with soft elastic ear pieces for a snug & comfy fit.
CARE INSTRUCTIONS FOR THE MASK: I recommend that you hand wash your mask in warm water with soap and hung to dry. Alternatively, the mask can be washed in a bag with DELICATE laundry and hung to dry.
INFORMATION ABOUT THE FILTERS: The material used for the filters is the Kimberly Clark X80 Hydroknit Cellulose. Each filter can be used for 8-10 hours and should then be discarded. Each mask comes with a pack of 10 filters. You can purchase additional filter packs here.
In the wake of recent events, I received many requests for Blade+Blue Face Masks.

The great thing about being a small, Made in USA company is that I can turn things around QUICKLY.
We had to get scrappy, using whatever fabric we had on hand at the factory.
I am so grateful to the team for helping to get these done in just a FEW DAYS.
It is pretty incredible.
But 'fast' doesn't always mean 'incredible'... I also wanted to bring you a HIGH QUALITY mask.
From what I have gathered, using a single-ply fabric like a t-shirt or bandana is not going to give you the protection you need.
These masks go the extra mile: 3 separate sewn panels and a removable filter insert for better protection. Each mask will also come with a pack of filters.
The material used for the filters is the Kimberly Clark X80 Hydroknit Cellulose. 
Each mask is 7 1/2" wide x 5 7/8" tall with soft elastic ear pieces for a snug & comfy fit.
100% cotton.
Made in Texas
Please note that I am doing my best to keep the price as low as possible and always offering a discount code to offset some of the cost. The masks are all made in a clean, safe factory here in the United States. The cost of US production, top quality fabrics and the inclusion of filters all drive up the price but I hope you see the value in the pieces were are making.  US factories have taken a huge hit since the pandemic broke out and I'm hoping that the work associated with the masks will help everyone stay fully employed until we ride out the storm together. OH... and you also get my unrelenting commitment to providing the best, personalized customer service possible :)
PLEASE NOTE: Blade+Blue in no way represents or warrants that use of our face masks will prevent the wearer from contracting COVID-19 or other viruses or illnesses.  This product has not been approved by the Food and Drug Administration and should be used only in compliance with CDC guidelines. This is not an N95 Respirator. Use the product at your own risk.
Shipping & Returns

 

Order generally ship within 1 - 3 business days.

All packages ship with USPS Priority Mail.

You will receive a shipping confirmation containing your tracking number once the order begins it's way through the queue.

If you require expedited shipping, please email me at info@bladeandblue.com OR just call me at 415-646-6200.  I am usually glued to my phone and hear to assist you with speed.

NEW LOWER SHIPPING RATES FOR US ORDERS 

$3.85 Standard Shipping on orders up to $49.99

$6.85 Standard Shipping on orders of $50 - $99.99

Free Shipping on all orders above $100

 

CANADA & MEXICO ORDERS - Flat rate of $32 for all orders. 

ALL OTHER COUNTRIES - Flat rate of $42 for all orders. 

Please allow up to 4 days to process international Orders. International Orders will ship via Fedex, which typically take 3-5 days to arrive.

Blade + Blue is not responsible for any additional duties or taxes (such as VAT) due.   

RETURNS & EXCHANGES

I hope you will love your Blade + Blue purchase, but If you do need to make a return, please note the following guidelines:

I will gladly accept any new, unwashed, and unworn item with any original tags or packaging for exchange or refund up to 14 days of your receipt of purchase. Please note that shipping costs (both to & from) are non-refundable. 

Simply enclose a note with instructions and return to:

Blade+Blue
Attn: Peter Papas
2370 Market Street
Suite 103, #404
San Francisco, CA 94114

If an incorrect item is mistakenly shipped, I will gladly send the correct item free of charge. You will be provided with a pre-paid envelope to return the incorrect item.

UNDERWEAR: Unfortunately, I cannot accept returns or exchanges of used or worn underwear, unless deemed defective. Defective merchandise will be replaced free of charge.

PLEASE NOTE: If you order multiple items of the same size, please only open one item to determine if the size fits. If you do so and find the item does not fit, the other new, unwashed, and unworn items may be exchanged.

If you have any questions, please reach out to Info@BladeandBlue.com
Customer Reviews
Write a Review
Ask a Question
Filter Reviews:
compliments
fabric
design
people
face
money
piece
Nobody
cost
masks
07/29/2020
Ryszard K.
United States
My favorite masks, very comfortable
Great quality, I love the elastic they use to go around the ears, very comfortable!
07/20/2020
Anonymous
United States
Froot Loops face mask
The mask looks great. It's very comfortable. I have a fairly large face; I'm not sure it would be quite as well-fitting for a small face, but it is elastic. As people recognize the design, they always smile. And I find it easy to wear with a suit too, which is really nice. Well made.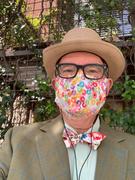 07/15/2020
Anonymous
United States
Froot Loop Mask
Great fun style mask. Since they are vitally important, they might as well be fun!!
07/15/2020
Dennis N.
United States
07/15/2020
Timothy G.
United States
Froot Loop Mask
I love it. Although sometimes people think their donuts instead of froot loops.
Similar items