25% OFF EVERYTHING + CASH BACK
Use Checkout Code: WOW25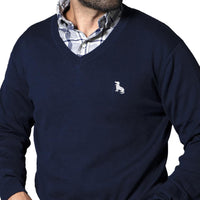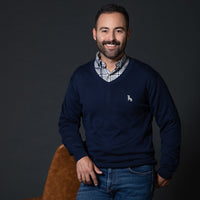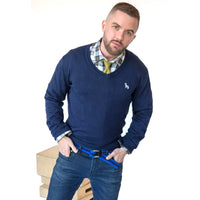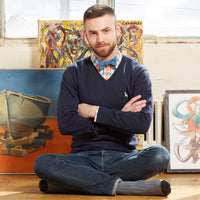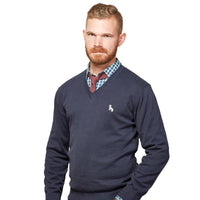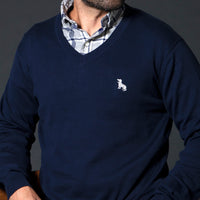 50% OFF AFTER CODE: WOW25 Navy Blue Fine Gauge Cotton V-Neck Sweater
Regular Price

$ 46.00

Sale Price

$ 46.00

Regular Price

$ 69.50

Unit Price

per
They Are Ready, Thank You for waiting!

The Blade + Blue V-neck sweater is the perfect complement to your B+B shirts & is the cornerstone for building your wardrobe.
Made of fine gauge, 100% pima cotton, these sweaters feature the little bowtie'd dachshund who reminds me that sometimes the underdog can win.
(BTW, that's my little dachshund, Gavin)
Launching new products is a very serious endeavor for a small company like Blade + Blue, so it wasn't going to happen unless it was just right. I was so fortunate to have a chance of working with one of the world's best knit factories, that I just had to do it.
I wanted to honor that little dachshund logo while bringing you a product that is impeccably made. It is also wonderful to know that this factory has donated a percentage of the proceeds from Blade + Blue to the schools in their community. Now, THAT is cool.
100% Pima Cotton. Made in Peru.
WILL THIS ITEM SHRINK?
Sweaters will experince significant shrink if placed in the dryer
It is recommended that you Hang Dry this garment
If you did want to shrink the sweater slightly for a tighter fit,
Place in Dryer for No More Than 6 minutes to avoid excessive shrink

CHEST
circumference measured just under armhole
| | | | | |
| --- | --- | --- | --- | --- |
| S | M | L | XL | XXL |
| 38" | 42" | 43" | 44" | 45" |
You want the waistband to expand  3" - 5" for a comfortable fit 
LENGTH
measured from top of waistband, down the side to hem
| | | | | |
| --- | --- | --- | --- | --- |
| S | M | L | XL | XXL |
| 25.25" | 25.75" | 26.5" | 27" | 27.5" |
Sometimes you just can't find all the answers on the site, but we will be there to help you.If you have any questions, please reach out to us at HelpMe@BladeandBlue.comWe will get back to you as soon as possible, typically within a few hours....usually it is minutes because we are always on call for you.(We may need until Monday if you send your email over the weekend)You may also call us at(415) 646-6200
RETURNS & EXCHANGES
I hope you will love your Blade + Blue purchase, but If you do need to make a return or exchange, please note the following guidelines:
I will gladly accept any new, unwashed, and unworn item for exchange or refund up to 14 days after delivery.
RETURN SHIPPING COST POLICY:
Shipping costs (both to & from) are Non-Refundable. 
TO SEND AN ITEM BACK:
Please send the item back to the following address with a note to advise if you would like a return, exchange or store credit to go shopping anytime:
Blade+Blue
Attn: Erica
1815 Magoffin Ave
El Paso TX 79901
If an incorrect item is mistakenly shipped, I will gladly send the correct item free of charge
You will be provided with a pre-paid envelope to return the incorrect item
UNDERWEAR RETURN POLICY:
Unfortunately, I cannot accept returns or exchanges of used or worn underwear, unless deemed defective.
Defective merchandise will be replaced free of charge.
PLEASE NOTE: 
If you order multiple pairs of underwear in the same size, please only open one item to determine if the size fits.
If you do so and find the item does not fit - the other new, unwashed, and unworn items may be exchanged.
Orders Generally Ship: in 1 - 3 business days, Monday through Thursday
Standard Shipping: is through USPS First Class or Priority Mail
EXPEDITED Shipping:  FedEx options are available during checkout
Fedex 2-3 Days: $33 Flat Rate Within The US
Fedex Overnight: $65 Flat Rate Within The US
**Please Note that Blade+Blue cannot be held responsible for any delayed deliveries experienced by the service provider**
You will receive a shipping confirmation containing your tracking number once the order begins it's way through the queue.
SHIPPING RATES FOR US ORDERS:
Despite USPS raising it's fees, I am trying to keep the shipping rates as low as I can:

$5.00 Standard Shipping on orders up to $49.99
$8.75 Standard Shipping on orders of $50 - $99.99

Free Shipping on all orders above $100
CANADA ORDERS - Flat rate of $39 for all orders. 
MEXICO ORDERS - Flat rate of $39 for all orders. 

ALL OTHER COUNTRIES - Flat rate of $60 for all orders. 
Please allow up to 4 days to process international Orders. International Orders will ship via Fedex, which typically take 3-5 days to arrive.
Blade + Blue is not responsible for any additional duties or taxes (such as VAT) due.