15% OFF YOUR ORDER
USE CODE: NEWFALL
(Offer Excludes all Underwear, Boxers & Swim)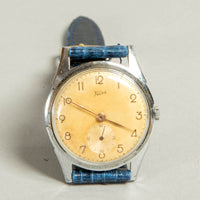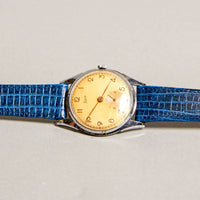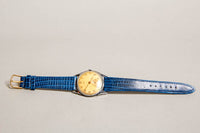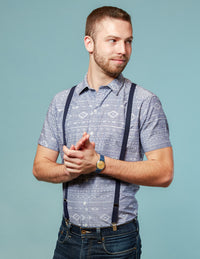 Vintage Felco 1940's Swiss Made Watch
Regular Price

$ 125.00

Sale Price

$ 125.00

Regular Price

Unit Price

per
I have always had a thing for old watches. There is something about the character of an old watch that just defines "Old School Cool" for me. I've just thought it was so much cooler to discover a beautiful old watch than to just walk into a store and buy a new one. There is a strength in knowing how old they are and seeing them faithfully keep perfect time. There is a magic in thinking of the life that this watch had before it came into your hands. And there is a beauty in knowing that some things just never go out of style.
When I was growing up, my dad never splurged on anything. His focus was on taking care of us kids.  But the one thing that he loved was a great watch. I think I inherited that from him.  As Blade + Blue is really a 'Thank - You' letter to my father for all that he taught us about being men, I couldn't be more excited and proud than to share this collection of beautiful found watches with you.  
Oh Boy, Oh Boy - that expression you will find love when you are least expecting it made sense when I found this beautiful watch.
Last year, I went pretty out of my way to stop at an estate sale on the drive back from southern California. I was pretty disappointed that there was lots of things for little old ladies and not a strong young man like me (ha!). I was just about to say "thank you & goodbye" when I saw the beautiful blue band of this watch peeking out from a bookcase shelf. I didn't know anything about the brand, I just fell in love with the handsome watch and the story behind it.  The family explained that the owner had bought this watch for her husband about 70 years ago and still kept it to remember him by. I fell in love with this watch and with the couple whom I saw pictured throughout this home.
I needed to find this watch a new lease on life. 
This was produced by the Felco company in the late 1940's. Felco was a Swiss company who specialized in medium-end watches. The face has a 'champagne' colored hue with raised numerals that appear to have a copper colored patina. All housed in a stainless steel case which measures 1.5" across including the dial. The back is marked 33909. 
The band is a stunning shade of blue with the animal embossed texture you see in the pictures. I cannot determine if it is the original band.
This is a wind up model and should be wound every day. I have been testing it and runs very well. It just needs a few seconds to 'warm up' after it has stopped - in other words, be patient he is 70 years old!
Only 1 available
Sometimes you just can't find all the answers on the site, but we will be there to help you.If you have any questions, please reach out to us at HelpMe@BladeandBlue.comWe will get back to you as soon as possible, typically within a few hours....usually it is minutes because we are always on call for you.(We may need until Monday if you send your email over the weekend)You may also call us at(415) 646-6200
RETURNS & EXCHANGES
I hope you will love your Blade + Blue purchase, but If you do need to make a return or exchange, please note the following guidelines:
I will gladly accept any new, unwashed, and unworn item for exchange or refund up to 14 days after delivery.
RETURN SHIPPING COST POLICY:
Shipping costs (both to & from) are Non-Refundable. 
TO SEND AN ITEM BACK:
Please send the item back to the following address with a note to advise if you would like a return, exchange or store credit to go shopping anytime:
Blade+Blue
Attn: Erica
1815 Magoffin Ave
El Paso TX 79901
If an incorrect item is mistakenly shipped, I will gladly send the correct item free of charge
You will be provided with a pre-paid envelope to return the incorrect item
UNDERWEAR RETURN POLICY:
Unfortunately, I cannot accept returns or exchanges of used or worn underwear, unless deemed defective.
Defective merchandise will be replaced free of charge.
PLEASE NOTE: 
If you order multiple pairs of underwear in the same size, please only open one item to determine if the size fits.
If you do so and find the item does not fit - the other new, unwashed, and unworn items may be exchanged.
Orders Generally Ship: in 1 - 3 business days, Monday through Thursday
Standard Shipping: is through USPS First Class or Priority Mail
EXPEDITED Shipping:  FedEx options are available during checkout
Fedex 2-3 Days: $33 Flat Rate Within The US
Fedex Overnight: $65 Flat Rate Within The US
**Please Note that Blade+Blue cannot be held responsible for any delayed deliveries experienced by the service provider**
You will receive a shipping confirmation containing your tracking number once the order begins it's way through the queue.
SHIPPING RATES FOR US ORDERS:
Despite USPS raising it's fees, I am trying to keep the shipping rates as low as I can:

$5.00 Standard Shipping on orders up to $49.99
$8.75 Standard Shipping on orders of $50 - $99.99

Free Shipping on all orders above $100
CANADA ORDERS - Flat rate of $39 for all orders. 
MEXICO ORDERS - Flat rate of $39 for all orders. 

ALL OTHER COUNTRIES - Flat rate of $60 for all orders. 
Please allow up to 4 days to process international Orders. International Orders will ship via Fedex, which typically take 3-5 days to arrive.
Blade + Blue is not responsible for any additional duties or taxes (such as VAT) due.